Mezzanine Floors
Dynamic Warehouse Solutions installs hundreds of mezzanine floors each year across Melbourne, Geelong, Bendigo, Ballarat and regional Victoria.
We also service Australia wide through our professional installation network. These mezzanine floor projects include industrial mezzanine floors for storage, mezzanine office areas for offices, showrooms and meeting spaces as well as custom platforms for manufacturing and warehouse processes.
Pro-Span mezzanine floors and raised storage platforms are a fast and economic way to add extra floor space within the shell of an existing building. With increasing building costs and rental fees, every square meter of your office and warehouse area needs careful planning and designed to give maximum space efficiency.
Pro-Span raised floors/mezzanines are free standing systems which do not depend on the structure of the existing building. This unique system is completely demount-able to make relocation easy and the structure of each floor will be carefully considered by our engineer for your required weight loading's.
A wide range of options are available including flooring options, handrails, staircases and goods lifts to make your raised floor as user friendly as possible and to maximize available space and productivity. All our floors come with load signs and engineers certification to comply with all work safe requirements.
We are Melbourne's largest and most professional manufacturer of mezzanine floors and raised storage platforms installing hundreds of floors across Australia each year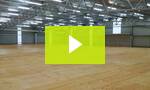 5SP The 5 Step process from Concept to Completion
Mezzanine Floor Related Products